How it works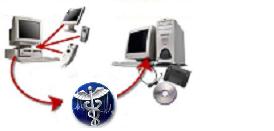 Dictation Methods
Transmed provides a digital system where the client dictates any form of report by using a touch-tone phone with control of recording, playback etc.
Click here for dictation instructions
Transmed also gives you the option to use a hand held digital recorder and upload the voice files to our website or email the files to us.
Transmed will also transcribe from audiotapes.
Tracking
At Transmed, we know how important each and every report is. To ensure that nothing gets lost, we developed a tracking system where we could track and associate every voice file/dictation to its finished report.
Our clients can also track their reports by logging on to our secure website where they can view and track all their pending and finished reports 24/7.
Retrieval System
Transmed offers a number of options for you to receive the finished reports. Transmed will provide you with a user name and password to login to our secure ASP (Application Service Provider) where you can view and download the reports from our website. There are also many other nice features.
We can also send them via email, fax or by any postal service of your choice.
Turnaround Time
Transmed currently provides our clients with a TAT of 24 - 48 hours. We also provide our clients with stat reports at no extra charge.